Direct Healthcare Services ist ein britisches Unternehmen, das sich auf die Herstellung von Versorgungsprodukten für die Behandlung von Dekubitus spezialisiert hat. Wir bieten eine Reihe von innovativen preisgekrönten Produkten an, wie zum Beispiel Matratzen, Kissen und Überzüge. Durch unsere umfangreiche Erfahrung bei der Breitstellung von klinisch bewährten und preisgünstigen Lösungen können unsere Kunden von einer Kombination aus innovativen Technologien zur Versorgung von Dekubitus, die zusammen mit den führenden klinischen- und Gesundheitseinrichtungen entwickelt wurden, profitieren. Durch unser engagiertes Team von Direct Healthcare Services und unseren Einsatz von Aus- und Weiterbildungen vor Ort haben wir es geschafft, uns einen hervorragenden Ruf im Bereich des erstklassigen Kundendienstes zu erarbeiten.
Mit seinem Sitz in Süd Wales kann Direct Healthcare sowohl den Markt im Vereinigten Königreich als auch die überseeischen Märkte perfekt bedienen. Die Entwicklungs- und Produktionsanlage beherbergt auch ein eigenes Entwicklungsteam, umfangreiche Kundenschulungszentren und Büros des Kundendienstes.
Ganz egal, ob Sie einen allumfassenden Servicevertrag für das gesamte Krankenhaus brauchen, eine Installation des Produktes oder eine einfache Vorführung – wir bei Direct Healthcare Services garantieren Ihnen, dass wir unser 'Versprechen an Sie halten'.
Unser grünes Engagement
Direct Healthcare Services erkennt, wie wichtig es ist, unsere Umwelt mit nachhaltigen Herstellungsmethoden zu schützen.
Mit der Akkreditierung ISO 14001 seit dem 1. August 2012 haben wir uns dazu verpflichtet, unser grünes Engagement fortwährend zu verbessern.
Ein neuer Teil dieses Engagements besteht darin, so viele unserer Ressourcen für unser Verkaufsteam und unsere Kunden online zugänglich zu machen wie möglich, dies beinhaltet Broschüren, Kurzanleitungen und Gebrauchsanweisungen.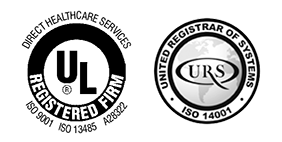 WEEE Compliance Statement
Registration No. WEE/GB2929WW
The Waste Electrical and Electronic Equipment (WEEE) Regulations 2013 as amended (Directive 2012/19/EU) apply to all Electrical and Electronic Equipment (EEE) placed on the market in the UK covered by the scope of the Regulations.
The directive aims to reduce the waste arising from Electrical and Electronic equipment and improve the environmental performance of everything involved in the life cycle of the EEE and to minimise the amount of material entering the waste stream.
In order to comply with the WEEE directive, Direct Healthcare Services Ltd, (DHS) have taken the following actions.
DHS carry out in-house monitoring and detailed reporting to enable us to determine how much EEE has entered the UK market.

All EEE entering the UK market, as well as carrying a unique serial number, is marked with the 'crossed out wheeled bin'. 
This symbol indicates that the equipment carrying this mark must not be thrown into general waste but should be collected separately and properly processed for disposal under local regulations.
Reports are submitted to the relevant authority with information of the tonnage of EEE products placed on the UK market by DHS.

We provide an end of life solution for all products sold within the UK by accepting back any end-of-life EEE for processing by using a registered waste disposal company.
DHS has registered as a producer in the UK, Registration No. WEE/GB2929WW. However, please be aware that DHS's producer registration will only provide compliance for EEE products purchased from us and entered directly into the UK market.