Direct Healthcare Services es un fabricante británico especializado en productos por presión sanitarios con un amplio catálogo de productos innovadores y galardonados, entre los que se incluyen colchones, cojines y cubiertas.
Gracias a una experiencia significativa en la venta de productos eficientes y clínicamente probados, los clientes pueden beneficiarse de la última tecnología en asistencia sanitaria por presión, con un diseño realizado en colaboración con las mejores instituciones clínicas y asistenciales.
Direct Healthcare Services se ha ganado una reputación sin parangón debido a nuestros equipos de expertos dedicados a la formación y educación continuada y el servicio in situ, con lo que podemos ofrecer un servicio al cliente de primera clase.
Direct Healthcare tiene su sede central en el sur de Gales y su ubicación es idónea para ofrecer sus servicios tanto al Reino Unido como al mercado internacional. Nuestras instalaciones de diseño y fabricación hospedan también un laboratorio de diseño interno, aulas de formación para clientes y oficinas de atención al cliente.
Ya sea para el suministro de productos de un contrato completo de gestión de un servicio hospitalario, la instalación de un único producto o simplemente una demostración, Direct Healthcare Services garantiza "cumplir con las expectativas".
Compromisos con el medio ambiente
En Direct Healthcare Services somos conscientes de la importancia de proteger nuestro entorno con prácticas de fabricación sostenible.
Estamos certificados con la acreditación de la norma ISO 14001 desde el 1 de agosto de 2012 y mantenemos nuestro compromiso de mejorar continuamente nuestras prácticas verdes.
Como parte de este esfuerzo, recientemente hemos intentado que la mayor parte de los recursos de nuestros equipos comerciales y para el cliente estén disponibles online, incluyendo folletos, guías de referencia rápida y manuales de usuario.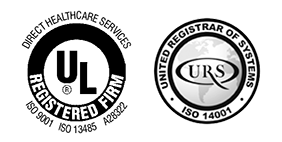 WEEE Compliance Statement
Registration No. WEE/GB2929WW
The Waste Electrical and Electronic Equipment (WEEE) Regulations 2013 as amended (Directive 2012/19/EU) apply to all Electrical and Electronic Equipment (EEE) placed on the market in the UK covered by the scope of the Regulations.
The directive aims to reduce the waste arising from Electrical and Electronic equipment and improve the environmental performance of everything involved in the life cycle of the EEE and to minimise the amount of material entering the waste stream.
In order to comply with the WEEE directive, Direct Healthcare Services Ltd, (DHS) have taken the following actions.
DHS carry out in-house monitoring and detailed reporting to enable us to determine how much EEE has entered the UK market.

All EEE entering the UK market, as well as carrying a unique serial number, is marked with the 'crossed out wheeled bin'. 
This symbol indicates that the equipment carrying this mark must not be thrown into general waste but should be collected separately and properly processed for disposal under local regulations.
Reports are submitted to the relevant authority with information of the tonnage of EEE products placed on the UK market by DHS.

We provide an end of life solution for all products sold within the UK by accepting back any end-of-life EEE for processing by using a registered waste disposal company.
DHS has registered as a producer in the UK, Registration No. WEE/GB2929WW. However, please be aware that DHS's producer registration will only provide compliance for EEE products purchased from us and entered directly into the UK market.