Direct Healthcare Services est un fabricant britannique spécialisé dans les solutions de traitement des plaies de pression, avec une gamme complète de produits novateurs et primés incluant des matelas, des coussins et des sur-matelas.
Grâce à une vaste expérience dans la fourniture de solutions cliniquement éprouvées et d'un bon rapport qualité/prix, les clients bénéficient d'une combinaison de technologies innovantes portant sur le traitement des plaies de pression, conçues en partenariat avec les principaux établissements cliniques et de soins de santé.
Avec des équipes expertes résolues à soutenir les activités continues d'éducation, de formation et d'entretien menées sur le terrain, Direct Healthcare Services s'est forgée une réputation inégalée en ce qui concerne son service client de classe internationale.
Basé au sud du Pays de Galles, la situation géographique de Direct Healthcare est idéale pour servir à la fois les marchés britanniques et étrangers. Une vaste unité dédiée à la conception et à la fabrication héberge également une activité de conception interne, des centres de formation intégrale destinée aux clients et des bureaux de service à la clientèle.
Que votre demande porte sur la fourniture d'un contrat de service hospitalier entièrement géré, l'installation d'un produit ou simplement une démonstration, Direct Healthcare Services garantit de « Tenir la promesse ».
Notre engagement vert
Direct Healthcare Services est conscient de l'importance de protéger notre environnement grâce à des pratiques de fabrication durable.
Forts d'une accréditation ISO 14001 depuis le 1er août 2012, nous sommes résolus à augmenter continuellement nos efforts verts.
Une partie récente de ces efforts est de mettre en ligne une quantité aussi importante que possible des ressources client et de l'équipe chargée des ventes, notamment des brochures, des guides de référence rapide et des manuels d'utilisateur.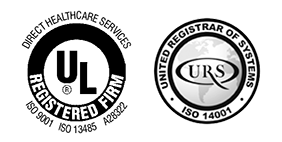 WEEE Compliance Statement
Registration No. WEE/GB2929WW
The Waste Electrical and Electronic Equipment (WEEE) Regulations 2013 as amended (Directive 2012/19/EU) apply to all Electrical and Electronic Equipment (EEE) placed on the market in the UK covered by the scope of the Regulations.
The directive aims to reduce the waste arising from Electrical and Electronic equipment and improve the environmental performance of everything involved in the life cycle of the EEE and to minimise the amount of material entering the waste stream.
In order to comply with the WEEE directive, Direct Healthcare Services Ltd, (DHS) have taken the following actions.
DHS carry out in-house monitoring and detailed reporting to enable us to determine how much EEE has entered the UK market.

All EEE entering the UK market, as well as carrying a unique serial number, is marked with the 'crossed out wheeled bin'. 
This symbol indicates that the equipment carrying this mark must not be thrown into general waste but should be collected separately and properly processed for disposal under local regulations.
Reports are submitted to the relevant authority with information of the tonnage of EEE products placed on the UK market by DHS.

We provide an end of life solution for all products sold within the UK by accepting back any end-of-life EEE for processing by using a registered waste disposal company.
DHS has registered as a producer in the UK, Registration No. WEE/GB2929WW. However, please be aware that DHS's producer registration will only provide compliance for EEE products purchased from us and entered directly into the UK market.