Diretta Healthcare Services è un produttore britannico specializzato in soluzioni per la cura nell'area delle lesioni da pressione con una gamma completa di, premiati prodotti innovativi, tra cui materassi, cuscini e sovrmaterassi.
Con una significativa esperienza nella fornitura di prodotti clinicamente testati, grazie a un elevato valore costo beneficio, i clienti beneficiano di una combinazione di tecnologie per la cura delle pressioni innovativo, progettate in collaborazione con i principali centri clinici e sanitari.
Con squadre di esperti impegnati a sostenere corsi di istruzione, formazione, e assistenza in-campo, Directi Healthcare Services ha stabilito una reputazione senza pari per il servizio clienti di classe mondiale.
Con sede a South Wales, Direct Healthcare è nella posizione ideale per servire sia nel Regno Unito che nei mercati d'oltremare. Una vasta struttura di progettazione e produzione ospita anche una funzione di progettazione In-House, strutture di formazione dei clienti e uffici di servizio clienti.
Se il vostro requisito è la fornitura di un contratto di servizio ospedaliero completamente gestito, una installazione del prodotto o semplicemente una dimostrazione, Direct Healthcare Services vi garantisce di "Mantenere l'impegno".
Il nostro impegno Verde
Direct Healthcare Services riconosce l'importanza di proteggere il nostro ambiente con le pratiche di produzione sostenibili.
Con ISO 14001 dal 1 ago 2012 siamo impegnati a migliorare costantemente i nostri sforzi verdi.
Una parte recente di questi sforzi è quello di mettere a disposizione le nostre risorse e documentazioni per i clienti on-line, tra cui opuscoli, guide rapide e manuali d'uso.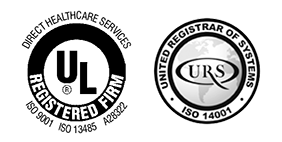 WEEE Compliance Statement
Registration No. WEE/GB2929WW
The Waste Electrical and Electronic Equipment (WEEE) Regulations 2013 as amended (Directive 2012/19/EU) apply to all Electrical and Electronic Equipment (EEE) placed on the market in the UK covered by the scope of the Regulations.
The directive aims to reduce the waste arising from Electrical and Electronic equipment and improve the environmental performance of everything involved in the life cycle of the EEE and to minimise the amount of material entering the waste stream.
In order to comply with the WEEE directive, Direct Healthcare Services Ltd, (DHS) have taken the following actions.
DHS carry out in-house monitoring and detailed reporting to enable us to determine how much EEE has entered the UK market.

All EEE entering the UK market, as well as carrying a unique serial number, is marked with the 'crossed out wheeled bin'. 
This symbol indicates that the equipment carrying this mark must not be thrown into general waste but should be collected separately and properly processed for disposal under local regulations.
Reports are submitted to the relevant authority with information of the tonnage of EEE products placed on the UK market by DHS.

We provide an end of life solution for all products sold within the UK by accepting back any end-of-life EEE for processing by using a registered waste disposal company.
DHS has registered as a producer in the UK, Registration No. WEE/GB2929WW. However, please be aware that DHS's producer registration will only provide compliance for EEE products purchased from us and entered directly into the UK market.