Direct Healthcare Services is a specialist British manufacturer of pressure area care solutions with a comprehensive portfolio of innovative, award-winning products including mattresses, cushions and overlays.
With significant experience in the provision of clinically proven, value for money solutions, customers benefit from a combination of innovative pressure care technologies, designed in partnership with leading clinical and healthcare establishments.
With expert teams committed to supporting on-going Education, Training & in-field Service, Direct Healthcare Services has established an unparalleled reputation for world-class customer service.
Based in South Wales, Direct Healthcare is ideally placed to serve both the UK and overseas markets. An extensive design and manufacturing facility also houses an In-House design function, comprehensive customer training facilities and Customer Service offices.
Whether your requirement is the provision of a fully managed hospital service contract, a product installation or simply a demonstration, Direct Healthcare Services guarantees "Delivering the Promise".
Our Green Commitment
Direct Healthcare Services recognises the importance of protecting our environment with sustainable manufacturing practices.
With ISO 14001 accreditation since 1st August 2012 we are committed to continually improving our green efforts.
A recent part of these efforts is to make as many of our sales team and customer resources available online, including brochures, quick reference guides and user manuals.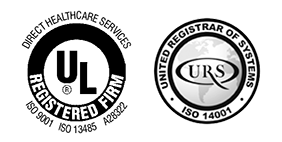 WEEE Compliance Statement
Registration No. WEE/GB2929WW
The Waste Electrical and Electronic Equipment (WEEE) Regulations 2013 as amended (Directive 2012/19/EU) apply to all Electrical and Electronic Equipment (EEE) placed on the market in the UK covered by the scope of the Regulations.
The directive aims to reduce the waste arising from Electrical and Electronic equipment and improve the environmental performance of everything involved in the life cycle of the EEE and to minimise the amount of material entering the waste stream.
In order to comply with the WEEE directive, Direct Healthcare Services Ltd, (DHS) have taken the following actions.
DHS carry out in-house monitoring and detailed reporting to enable us to determine how much EEE has entered the UK market.

All EEE entering the UK market, as well as carrying a unique serial number, is marked with the 'crossed out wheeled bin'. 
This symbol indicates that the equipment carrying this mark must not be thrown into general waste but should be collected separately and properly processed for disposal under local regulations.
Reports are submitted to the relevant authority with information of the tonnage of EEE products placed on the UK market by DHS.

We provide an end of life solution for all products sold within the UK by accepting back any end-of-life EEE for processing by using a registered waste disposal company.
DHS has registered as a producer in the UK, Registration No. WEE/GB2929WW. However, please be aware that DHS's producer registration will only provide compliance for EEE products purchased from us and entered directly into the UK market.