ProServe® Rental Solutions
Home »
Direct Healthcare Services acknowledges that most organisations do not always have the appropriate equipment required at the very time that it's urgently needed. We also recognise that there is not always enough equipment on your shelves to fulfil an increasing clinical demand.
Often, the broader needs of a multitude of healthcare industries require urgent ad-hoc or planned rental programmes. At Direct Healthcare Services, we are perfectly positioned to offer these types of services. With our strategically located service and decontamination centres, we can offer a fast, local service to the people that matter.
Whether it's a specialist bariatric requirement, pressure relieving mattress and bed rental or even a thorough decontamination process, you can be sure that by placing your trust in us, we will "deliver the promise".
All of our specialist equipment is available to rent, lease or purchase at very competitive prices, provided from a service centre near you. Should you require any of the services mentioned above or if you simply need further information about these products, then please contact us.
Which areas do we cover?
Our rental team cover England and Wales and deliver to most areas within 4 hours. Please call our National Rental line on 0800 043 0882 and arrange delivery of your choice of system.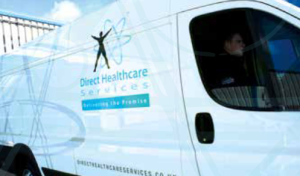 Training and Installation
Full training and install assistance will be provided with your Dyna-Form® mattress system. Our trained engineers will ensure you have been fully trained before leaving the system with you.