Direct Healthcare Services 是英国一家专业制造商,专门提供压力部位护理解决方案,涵盖一整套屡获殊荣的创新产品组合,包括床垫、靠垫和床上垫。
公司在提供经临床验证、物超所值的解决方案方面经验丰富,客户可从他们与领先的临床和医疗机构合作设计的各种创新型压力护理技术组合中受益。
凭借致力于为持续开展的教育、培训和现场服务提供支持的专家团队,Direct Healthcare Services以世界一流的客户服务树立了无与伦比的声誉。
Direct Healthcare地理位置优越,总部设在南威尔士,服务范围遍及英国和海外市场。范围广泛的设计和制造厂还设有内部设计职能部门、功能全面的客户培训机构和客户服务办事处。
我们的绿色承诺
Direct Healthcare Services已意识到通过可持续的生产规范来保护环境的重要性。
自2012 年8 月1 日通过ISO 14001 认证以来,我们便始终致力于不断加强我们的环保努力。
在这一方面,我们最新的一项举措是在线提供尽可能丰富的销售团队和客户资源,包括资料、快速参考指南和用户手册。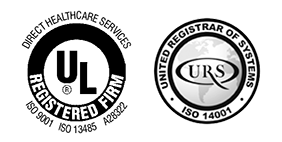 WEEE Compliance Statement
Registration No. WEE/GB2929WW
The Waste Electrical and Electronic Equipment (WEEE) Regulations 2013 as amended (Directive 2012/19/EU) apply to all Electrical and Electronic Equipment (EEE) placed on the market in the UK covered by the scope of the Regulations.
The directive aims to reduce the waste arising from Electrical and Electronic equipment and improve the environmental performance of everything involved in the life cycle of the EEE and to minimise the amount of material entering the waste stream.
In order to comply with the WEEE directive, Direct Healthcare Services Ltd, (DHS) have taken the following actions.
DHS carry out in-house monitoring and detailed reporting to enable us to determine how much EEE has entered the UK market.

All EEE entering the UK market, as well as carrying a unique serial number, is marked with the 'crossed out wheeled bin'. 
This symbol indicates that the equipment carrying this mark must not be thrown into general waste but should be collected separately and properly processed for disposal under local regulations.
Reports are submitted to the relevant authority with information of the tonnage of EEE products placed on the UK market by DHS.

We provide an end of life solution for all products sold within the UK by accepting back any end-of-life EEE for processing by using a registered waste disposal company.
DHS has registered as a producer in the UK, Registration No. WEE/GB2929WW. However, please be aware that DHS's producer registration will only provide compliance for EEE products purchased from us and entered directly into the UK market.